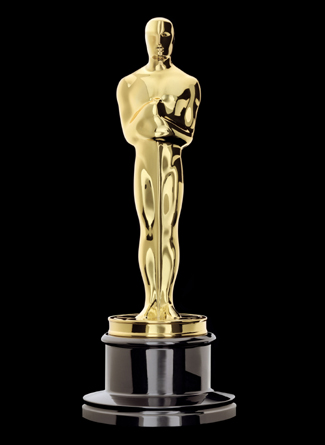 There were no surprises at the Oscars, and I have to go along with the consensus that "The King's Speech" deserved Best Picture; in a year where there was some strong competition, the "The King's Speech" was seamless perfection in film narrative, from the script, cast, and direction.
As much as I enjoyed "True Grit", and admit that I am a Coen Brothers partisan who will find genius more often than not in any of the films they make, there were times in their otherwise inspired remake where their energy, which is to suggest their enthusiasm, flagged. This, I think, was their downfall in the Best Picture category.
Also, I was heartened to see Christian Bale get his Oscar for
best supporting
actor for "The Fighter"; he stole the movie and was blessed with a role that allowed him to show off his considerable acting chops. As with Al Pacino in "Scent of a Woman", the role justified the scene chewing; I do hope, though, that Bale doesn't repeat the riff ; it didn't do Pacino that much good in his subsequent films
; save
for a movie or three since his Oscar win, his RANDOM VOLUME!!! the method has become a means of self-parody. Give that man a Soma soaked Twinkie.
I was especially warmed by Melissa Leo's winning best-supporting actor as the domineering mother in "The Fighter"--I've been a fan of hers since she portrayed detective Kay Howard in the television show "Homicide: Life on the Street"; she was terrific, nuanced, crabby, an emotionally pinched person slow to change her distorted worldview, and Leo played it wonderfully.