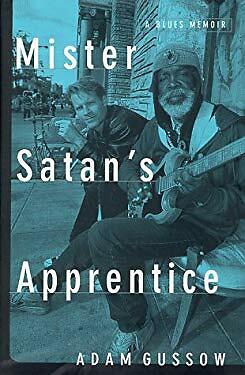 Sterling Magee, half of the stellar blues duo Satan and Adam, has passed away.It was just announced on Mr. Magee's Facebook page that he "...passed away peacefully last night." No other details. This is tremendously sad news. As a musician, I think he was without peer, and I cannot think of anyone I've heard who has done the one-man-band street musician project as brilliantly or resourcefully as he had done. As part of Satan and Adam, his guitar work was rhythmic and forceful, and the time he kept on his customized drum set up (with cymbals!) unfailingly created grooves and moods and such that complimented his gruff, splintery, exclamatory singing.
I came across Satan and Adam from a track played on the Sunday blues show on KSDT FM in San Diego, from their first album
Harlem Blues i
n 1991, and followed them ever since that time. I read Adam Gussow's book on his musical partner
Mr. Satan's Apprentice
sometime later and was taken with the camaraderie , and how they managed such a brilliant partnership. Of course, it was my introduction to Adam's harmonica work as well. Sterling Magee was unique, beautifully so, a transcendent man who spoke the language of the heart and soul, joy, pain, grief, exaltation. My deepest condolences to Mr.Magee's family and especially to Adam.