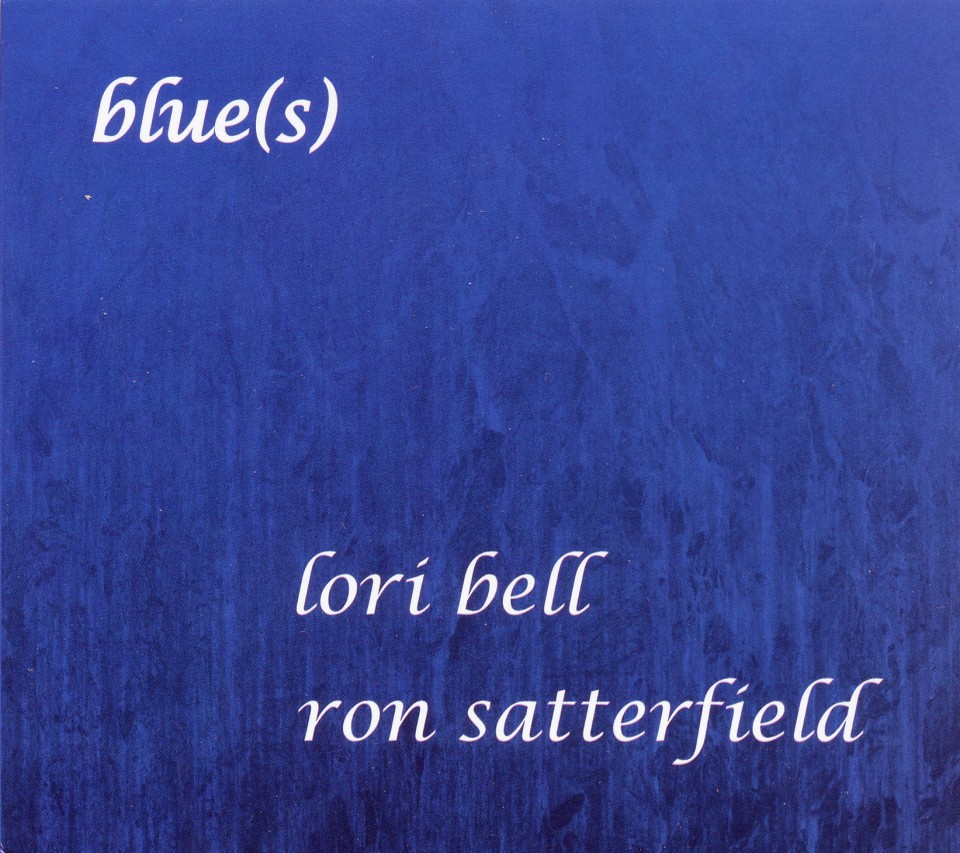 Blue(s)-
Lori Bell and Ron Satterfield
Lori Bell and Ron Satterfield have spent the last few years wowing and beguiling audiences with their vibrant combination of straight ahead, pop, and boss nova-inflected jazz. Blue(s), their new album, is a welcome release, an intoxicating blend of classic tunes by Miles Davis, Thelonious Monk, and Bill Evans among others, and three guileful originals by Bell. Flutist Bell and guitarist /vocalist Satterfield are a musical combination that have the shared the reflexes of swift and nimble dancers, negotiating difficult changes and moving gracefully through a varied and rich field of tempos, moods, and tones. Those of us lucky enough to witness their magic live no Bell's wonderful accomplishments during a performance. Her improvisations are a sublime complement of speed and grace, with a skill to interpret material, reshape melodies, and play tricky and shifting tempos. Her technique is meteoric, but they do not sacrifice the sweetness of the music in service to mere virtuosity.
Bell's genius for inventing melodic conceptions in seamless succession fuses with Satterfield's adroit guitar work. Eschewing solos, he instead switches between different comping requirements with ease, verve, and style. He gleefully alternates between straight up walking bass lines and shuffle patterns to the subdivided syncopations of Bossa nova, and shows the dulcet intuition of a pianist on the more somber material. (Note: Satterfield is a fine pianist as well with an agile and delicate touch, a quality that informs a nearly flawless sense of rhythm and groove. There's no lack of variety on blue(s). Those requiring their music be up-tempo and big league, Bell's own "Bell's Blues" begins the album with all cylinders firing. It's a hard-swinging blue with some sweet criss-cross changes and the flutist swooping and pirouetting over Satterfield's propulsive chords; Satterfield, at midpoint, eases into the fury with a lyric scat vocal, mirroring Bell's effervescent notes with his own vocalese. Satterfield's voice is one wonder of Southern California jazz.
The pair retook Monk's "Blue Monk" into a 6/8 time rush, the usually doleful melody transformed into whistling, scat-happy whimsy. Satterfield launches firmly from a beautifully clipped Latin groove and propels the material with galloping chords, over which Bell decorates the combustible pace with an airy, sprite set of improvisations, springing off Satterfield's able time keeping. Another high point is a refreshingly sprite arrangement of Miles Davis's classic "All Blues." With rare exceptions, later versions of the tune have treated Davis' original arrangement–slow, somber, casually yet firmly swaying–as sacrosanct. Bell and Satterfield prefer to create anew, allowing them to mess with the song's mood, elevating from its muted and brooding essence as a tone poem and turn that swaying motion into something close to a swinging rhythm. Bell's mastery is in full evidence, weaving sprite, flutter-tongued phrases over and between Satterfield's brisk and agile chord voicings.