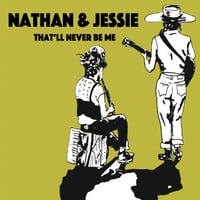 THAT'LL NEVER BE ME-
-Nathan and Jessie
A wonderfully exotic bit here, That'll Never Be Me, by the trio Nathan and Jessie. Yes, a trio despite the problematic moniker, based in Temecula and composed of guitarist-vocalist Nathan Rivera, guitarist-vocalist Jessie Smith, and Trevor Mulvey on upright bass. Performing all original songs, Nathan and Jessie have their roots in a variety of old-timey styles; a jazzy mélange of blues, folk, gypsy swing; and hints of klezmer and country lurking around the edges of their sound. None of this is second hand, as the writing is fully realized, tuneful, alternately sweet and tart, joyous and melancholic, poetic and plaintive, the melodies and buoyant instrumentation keeps you wondering what odd, effective twist might come at you next.
A country song wanders gleefully through the imagined fields and streams that make a simple love call a righteous surrender to joy itself, only to be followed by a soaring, resonating clarinet solo on the upswing of the next song, the tempo swaying with confirmed confidence. Nathan and Jessie (and Trevor, we should mention as well) mix, match, and merge their influences; the baroque richness of gypsy swing segues into a samba groove, mandolins, clarinets, and jazz guitars are brought together without an exposed seam.
This made me think of nothing else so much as the Band's eponymous second album, a masterpiece in bringing together a good many musical styles and transcending the quality of mere eclecticism and instead creating something altogether new. Nathan and Jessie come near that same quality, seeming to find aspects of the old music that's influenced them collectively and rather naturally allowing the distinctiveness of their own experience shape the music they wrote and arranged for themselves.
Making That'll Never Be Me ever more attractive is the elan of their vocals, which sparkle, soar, both in harmony and as soloists. The voices are clear, flexible, with jazzman's sense of being able to sense a mood, a rhythm, a pitch. The singing makes for witty readings of the lyrics. Nathan, Jessie, and Phil are remarkable musicians who create and keep this fine web of tones going and growing, and they are aided with guest turns by equally remarkable musicians, including jazz guitarist Ryan Dart doing some fleet work on "This Could Be Love" and Kale Stiles multi-tasking on clarinet, lap steel guitar, mandolin, and bass clarinet through the tracks. The trio proves this: that the styles may be old-timey, but the music is not. That'll Never Be Me is the sound.