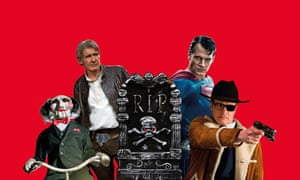 So little of what passes as cultural commentary on the internet is trivial and distracting like an itch you can't scratch that it comes as (very) mild surprise that one of the opinioneers delivered a grouse worth considering. An uncredited scribe in The Guardian mentioned and elaborated on an element of many super hero films that is , perhaps, killing interest in the genre:

viewers cannot depend on a character remaining dead if he or she gets killed

. The story makes the point that there have been so many deaths-and-miraculous-resurrections of characters that a viewer's willing suspension of disbelief refuses to kick in; it becomes more a matter of plot mechanics than catharsis.
It is one thing that Superman, presented to us as deceased in
Batman v Superman,
reenters the action in the upcoming
Justice League , since DC has generally made sure the Man of Steel was represented on screen in Christ like terms since the beginning. It just makes sense just to remain consistent with the analogue and to consistent as well with the comic book canon; Superman simply must come back from the dead. Every dead character returning to the narrative fold, though, kills the fun of these things.
Which brings up the point this piece strongly suggests, the nagging question as to why audiences continue to bother showing up for these things. I know it's been predicted often, but there is a tipping point for this material. We're saturated ,carpet bombed, pummeled with creeps in capes destroying fictional cities and a fantastic and devastating fall off in attendance looms sooner than Hollywood might think. This is to say the studios need to diversify their crops.